Messer debuted at the International Baking Industry Expo (IBIE), with technology solutions for achieving consistent results – from mixing to final freezing.
Messer, one of the largest privately-owned industrial gas companies in North and South America, came to market March 1, 2019, following acquisitions from Linde plc by Messer Group and CVC Capital Partners.
At IBIE in Las Vegas, Messer featured for the first time:

The Messer cross-flow tunnel freezer.
More consistent production freezing is possible with an even flow of cryogen (either nitrogen or carbon dioxide) across the conveyor and throughout the freezer.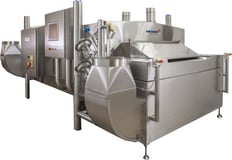 The Messer cross-flow tunnel freezer is modular to give bakeries flexibility for growth, and includes touchscreen controls and hygienic features for improved sanitation and consistent quality at high-volume production rates.
The freezer is ideal for high production rates of frozen products or products requiring crusting for rigidity during pack off.

In addition, Messer featured technology for chilling mixer ingredients.
Advanced temperature control of powdered sugar, flour, and spices promotes uniform mixing for more consistent forming and baking results. The Messer dry-ingredient chilling system uses cryogenic gas to control dry ingredients to within 1-degree F as they are conveyed to the mixer.
For more information about Messer gases and technology for bakeries, fill out the form below or call 800-755-9277.