Messer highlighted its nationwide network of bulk medical gas supply and 24/7 emergency response at the ASHE Annual Conference and Technical Exposition. We are also showcased our unique Design, Build, Provide service for hospital gas supply systems.
Messer was born from the March 2019 acquisition from Linde plc by the Messer Group and CVC Capital Partners, which included substantially all of Linde plc's bulk gases business in the United States.
We are now one of the leading suppliers of industrial gases in North and South America. We distribute medical-grade bulk oxygen (O2) and nitrogen (N2) and a variety of other gases through an extensive network spanning over 70 production facilities in the region.
Medical gases are a critical life support system and Messer is laser-focused on offering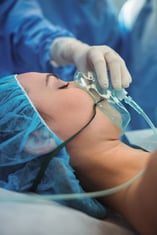 a reliable supply and emergency response system.
Working from our best-in-class, 24/7 operations National Scheduling Center in Stewartsville, NJ, Messer operates a nationwide network of production facilities FDA-certified in medical gases; distribution centers and a fleet of 1,200 trailers with drivers specially trained to deliver and fill bulk oxygen supply stations. In addition, we maintain a fleet of validated portable bulk medical supply systems stationed nationally to provide emergency bulk oxygen supply throughout the country.
Hospital Services-Design, Build, Provide
Our key Hospital Services Design, Build, Provide value-add offering provides the healthcare marketplace turnkey medical gas solutions from conception to commissioning. Working with the client, Messer's Hospital Services Engineering team will manage project "Design" and engineering, "Build" of all the required construction scopes, and "Provision" of the medical gas equipment and supply with continued supply, service and maintenance.

Fill out the form below to learn more about our healthcare services.