Consumer demand continues to rise for high-quality, fresh-prepared foods and drinks sold in the grocery store's refrigerated section. Many of these are soups, stews, pasta sauces, and fruit smoothies, or entire prepared meals that offer consumers the convenience they crave – in the form of meats and pastas enhanced with sauces, marinades and gravies.
For processors, this demand increase means they've got to increase production without increasing overall operating costs. But the cooking required to get the foods ready for consumers to heat and eat also requires processors to rapidly cool it down prior to packaging.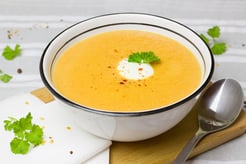 Most sauces, purees, soups and stews are typically cooked in steam jacketed kettles. Once cooked, they must be chilled to meet food safety time and temperature requirements.
Reducing food temperatures from near 200 F to below 40 F can take hours – a significant productivity slowdown. In many cases, processors are faced with a choice: lost productivity, or incurring significant capital costs for additional equipment – but that's only if they have the available floorspace.
For most processors, typical cooling methods include:
Pumping or pouring the sauce into transfer carts to chill in holding coolers.
Using jacketed, tubular, and scraped-surface heat exchangers.
Transferring to pouches and chilled in a water immersion or mechanical tumbler-chiller or other type of freezer.
Batch chilling with a glycol coolant in a jacketed kettle
Using a mechanical in-line heat exchanger
The trouble with these methods is that they can be very expensive, or can limit production due to the length of chilling time required or the difficulty of cleaning the equipment.
A newly available technology uses a direct injection of cryogenic gases for rapid, in-process cooling. Sauces or soups that have a fairly uniform consistency can be chilled inline with liquid nitrogen as they are pumped from the cooking kettle into the chill kettle.
If the product has chunks, or is highly viscous, another option would be to cool in the cooking kettle itself.
The inline cooling approach is ideal for:
Pasta sauces, such as marinara and alfredo
Soups, gravies, marinades and barbecue sauces
Custards, pie fillings, fruit preserves and syrup
High-end juice beverages, such as fruit smoothies and fruit purees
It offers seven main benefits:
Fast chill time – able to chill 3,000 lbs (do you measure in weight or volume?) from 190F to 40F within 20 minutes
Precise temperature control
Easy to clean: Employees can clean in place with very little equipment dismantling.
Lower capital cost, especially as compared with mechanical chilling systems, such as inline heat exchangers
MUCH smaller footprint versus nearly all other technologies
Low maintenance, hygienic design for ease of cleaning and reduced product waste
Faster chilling and cleaning time mean less downtime and production bottlenecks
Once the temperature has been lowered, cryogenics (liquid nitrogen in this case) can also be used to freeze these products in portion controlled pellets, helping processors get more mileage out of an installed system.
If you want to learn more about the food safety and the use of cryogenics in food processing plants, click the image below: